Just found out about this show. Mary Lee, while still on the Great Gildersleeve, was also on a short lived radio program called
The Penny Singleton Show
, (aka Penelopes Progress) which only lasted one season in 1950.
"Set in the fictitious 'Middleton,' a typical small town in the Midwest, the series framed Penny Singleton as Penelope 'Penny' Williamson, a Navy-widowed mother of two daughters who'd assumed the reins of her deceased husband's pre-War realty firm, Williamson & Wiggins Realty. Penny's two daughters, 8-year-old Sue (played by Sheila James)
and 13-year-old 'Deegee' (played by Mary Lee Robb
), provided the situational pathos and comedic situations one might of such a single-parent family of the 1950s. Further comedy relief was provided by Penny's housekeeper and cook, Margaret, portrayed by the brilliant Bea Benadaret in excellent comedic form."
http://www.digitaldeliftp.com/DigitalDe ... gress.html
Here is a 1950 ad showing Mary Lee with other cast members.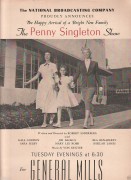 Episode Log
http://www.otrsite.com/logs/logp1057.htm
I searched and found 2 shows for listen. Enjoy!
Penny Singleton Show - The Admiral
https://archive.org/download/Singles_An ... dmiral.mp3
Penny Singleton Show - The Buglar (50-09-26)
https://archive.org/download/Singles_An ... Buglar.mp3